null The Migration Departments asks for attentiveness when submitting documents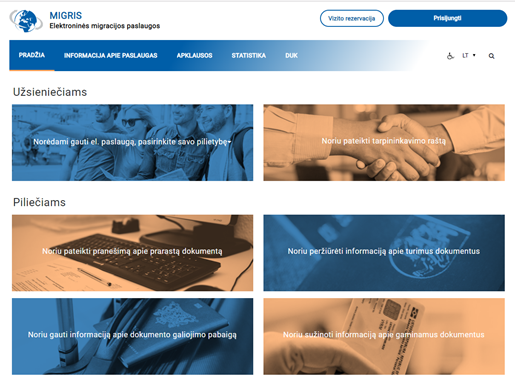 2020-02-20
The Migration Department asks the clients to use the Lithuanian Migration Information System (hereinafter – MIGRIS) more responsibly and to fill in the details of their MIGRIS account as well as MIGRIS applications carefully in order to make the application process faster and smoother.
It is particularly important that the name(s) and surname(s) of a foreigner are correctly entered in the MIGRIS account and in the applications. Such names must be specified according to the Latin entries in a valid travel document of a foreigner (passport, personal identity card). Latin characters with diacritics, which are in the Lithuanian alphabet, may also be used: ą, ę, į, ų, ū, ė, č, š, ž, and the following marks: ".", "'" and "( )".
The Migration Department cautions that an application completed via MIGRIS will not be accepted if the application contains incorrectly provided essential details of the application, or if the required documents have not been attached, or in case of documentary shortcomings, e.g. incomplete document has been attached.
The Migration Department also notes that there is a high incidence of errors in submitting mediation letters regarding Schengen and multiple national visas or the issuing of temporary residence permits and the change of employer or job function with the same employer; therefore, it requests to use the information and educational material published on the website migracija.lt as well as the YouTube channel of the Migration Department.