Informuojame, kad neteisėtas Lietuvos valstybės sienos perėjimas užtraukia baudžiamąją atsakomybę pagal Lietuvos įstatymus. Užsieniečiai, norintys kreiptis dėl prieglobsčio Lietuvoje suteikimo, tai gali padaryti teisėtu būdu, pateikę prašymą Lietuvos pasienio kontrolės punktuose, o būdami teisėtai Lietuvoje – Migracijos departamentui. / Please be informed that illegal crossing of the border of the Republic of Lithuania incurs criminal responsibility under the laws of Lithuania. Foreigners seeking for asylum in Lithuania can legally apply by submitting an application at border checkpoints of Lithuania or, having arrived in Lithuania by legal means, at the Migration Department.
null Migration Department welcomes first e-residents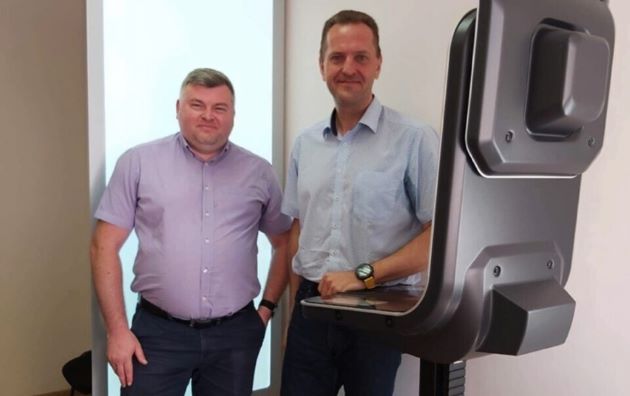 2021-06-21
G. Vizulis said that he was waiting for the possibility to obtain e-resident card an
Today, June 21st, the Migration Department accepted first applications to issue e-resident card.
Latvian citizens G. Vizulis and M. Vasiljevs, residents of Riga, became the first e-residents. They are Latvian entrepreneurs, who develop their business in Lithuania.
d use advantages of the new status as soon as possible. He believes that e-resident card will facilitate communication with state and financial institutions of Lithuania, will help to carry out commercial activities.
Migration Department notes that the first e-services offered to e-residents are the possibility of logging into the Electronic Government Gateway and signing documents by e-signature, as well as signing into the Lithuanian Migration Information System (MIGRIS) through the Electronic Government Gateway. The range of services provided to e-residents will be gradually expanded to enable digital possibilities of developing business relations, company establishment and management, performing of financial operations as well as access to other services relevant to foreigners.
Migration Department also reminds that e-resident applications are submitted through the Migration Information System (MIGRIS) at the address www.migracija.lt.